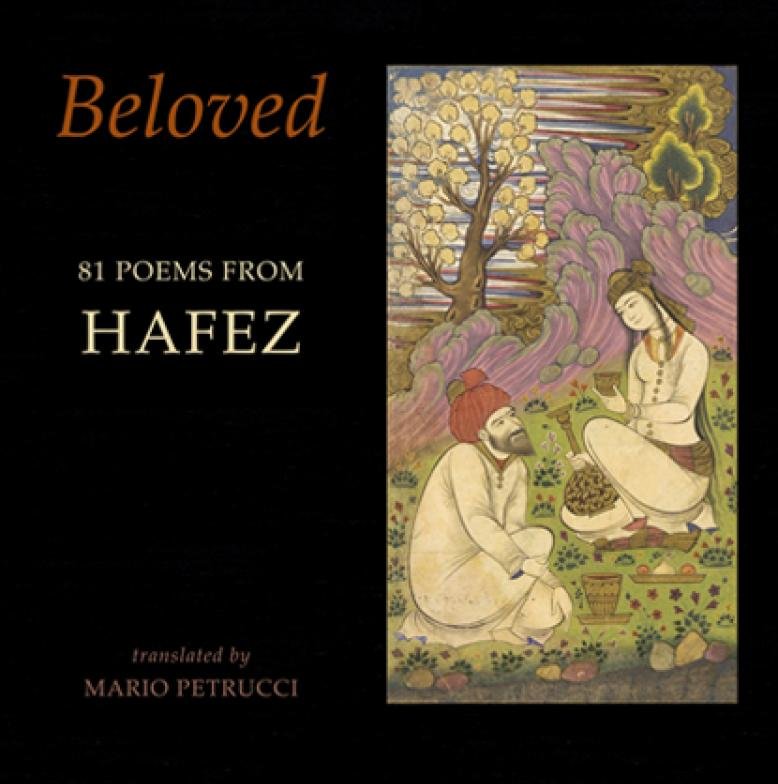 Beloved 8
Within your seductive black-lashed Eye – something sleeps.
Your dashed and tumbled rockslide-Hair hides something deep.
I pray – and your Smile runs something sweet as nipple-milk
when I say: Fresh water-honey from your salt-pan Lips, I drink.
That Mouth is a spring welling far more than what I lack: yet
at its rim that apple of your Chin – its tiny pit – distracts.
Live always! Your crossbow brow makes every Eyelash sly
as bolts about to go. Some undying wish in me says: let fly!
Heart – you broke and break again seeing the empty Bed.
Be keen in your lamentation – and Something shall be heard.
In hushed night, from your Hills, arose a frost – it brushed
the collar of my rose. White petals, I spilled. Nothing was lost.
Reader: there's nothing to gain in making public such weeping:
though, from the tear wept there, the eye does keep something.
(c) Mario Petrucci 2018


To order, contact Bloodaxe Books by clicking here:

or contact Mario at mmpetrucci@hotmail.com
"Petrucci's adaptations are a delight to read. They are fresh, candid, subtly humorous, and elegant.
They have that audacious and multilayered richness one finds in the originals. Above all, they are uncompromising.
Petrucci has clearly worked to form an understanding of Hafez's vision, artistry and devotional ambience,
and he goes to the necessary length to let all that shine through."


Fatemeh Keshavarz
Director and Chair, Roshan Institute for Persian Studies, University of Maryland


Hafez is among the most celebrated of Persian mystic poets, thriving alongside such towering figures as Rumi and Saadi. Ubiquitous in Iran, he has also carried significant influence in the West. These eighty-one poems, selected from his most potent ghazals, reflect his remarkable spiritual trajectory: two epic vigils, separated by forty years, which led to God-realisation. Interpreted variously as ardent mystic and lover, Hafez fuses earthly and divine love with an intense constancy as memorably productive as Dante's courtly adoration for Beatrice. Beloved sets out to reanimate that exquisite convergence between the human and the cosmic.

No translator can convey, in full, the seemingly limitless devotion and alert endurance of Hafez or capture, completely, the master poet's immaculate musicality, his rich complexity. Nevertheless, with ingenuity and vigour, Petrucci leaps the obstacles of time and culture to provide, in English, an authentic and accessible modern rendering of the Persian. Sensitive to the moral clarity and sensual abundance of his source, he mobilises a radiant lyricism in service to the ageless linguistic beauty of the originals. Beloved joins the irresistible force that is Hafez, whose healing wisdom, honesty and exuberance continue to percolate into the intimate consciousness of so many.




"The challenges of translating elaborate poems from medieval Persian to modern English are legion, especially
when the translator has bravely set out to imitate the intense and complex linguistic beauty of the originals in a new language.
But Mario Petrucci takes on the task with gusto here, and is to be applauded."


Henry Shukman - Poet, novelist, Zen teacher, author of Archangel (Cape Poetry, 2013)

"Mario Petrucci's new versions of Hafez are nuanced and thoughtful, embracing both the depth and the beauty of the original.
These renditions also allow us to take stock while we read, the words never slipping lyrically through our intellectual grasp."


Sasha Dugdale - Editor, Modern Poetry in Translation

"Petrucci bases his engagement with Hafez on a special awareness, one that goes deeper than
mere understanding of content to a comprehension of the 'Union' that Hafez reveals. Everywhere,
his delicate but probing selection of word and phrase uplifts and inspires."


Michael Hakuzan Wenninger - Zen monk

"An incredible ride. A Ferris wheel for the heart and mind."


Adam Simmonds - Kabbalistic teacher




An excerpt (below) from Beloved: 81 poems from Hafez... (not for redistribution)
Click here (or here for high-quality .wav) to hear Hafez 535 / Beloved 78 [published in Presence, USA, June 2021 - with the audio reproduced on their website here].
Reviews of Beloved...
"Petrucci is fully aware of the multiplicity and ambivalence which resonate in Hafez's poetry." Acumen (January 2019; Parvin Loloi).
"Works beautifully." Envoi 182 (June 2019; Paul McDonald).